Sparrow
birdfotos.com

Sparrow index page.
up dated 12/12/07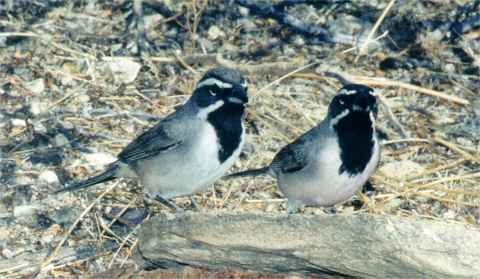 Hello!
We're the Black-throat Twins Harry & Larry,
and we want to welcome you to the Sparrow section of this web site.
Date indicates when page was put on line not when photo was taken.
Black-throated Sparrow
I have divided this into 4 pages so you won't have to wait so long for the images to load. Most of these images were taken with a digital camera. Nikon 900 CoolPic.
Black-chinned Sparrow [ female ]
Fox Sparrows - possible Sooty- RED Fox Sparow
Field Sparrow

12-28-08
Le Conte's sparrow a winter visitor to Arizona
Field Sparrow http://www.azfo.org/ArizonaBirdCommittee/fieldsparrow.html
Fox Sparrow http://www.azfo.org/ArizonaBirdCommittee/foxsparrow.html
Sooty" Fox Sparrow http://www.azfo.org/ArizonaBirdCommittee/sootyfoxsparrow_.html
Le Conte's Sparrow http://www.azfo.org/ArizonaBirdCommittee/lesp_ds2.html
Le Conte's Sparrow http://www.azfo.org/ArizonaBirdCommittee/lesp_gr1.html
Nelson's Sharp-tailed Sparrow http://www.azfo.org/ArizonaBirdCommittee/nelsonstsp.html
Rufous-winged=Sparrow http://www.birds.cornell.edu/AllAboutBirds/BirdGuide/Rufous-winged_Sparrow.html
Saltmarsh Sharp-tailed Sparrow http://www.birds.cornell.edu/AllAboutBirds/BirdGuide/Saltmarsh_Sharp-tailed_Sparrow.html
Savannah Sparrow http://www.birds.cornell.edu/AllAboutBirds/BirdGuide/Savannah_Sparrow.html

Seaside Sparrow http://www.birds.cornell.edu/AllAboutBirds/BirdGuide/Seaside_Sparrow.html
Henslows-Sparrow http://www.birds.cornell.edu/AllAboutBirds/BirdGuide/Henslows_Sparrow.html

Golden-crowned Sparrow http://www.birds.cornell.edu/AllAboutBirds/BirdGuide/Golden-crowned_Sparrow.html

Field Sparrow http://www.birds.cornell.edu/AllAboutBirds/BirdGuide/Field_Sparrow.html

Eurasian Tree Sparrow http://www.birds.cornell.edu/AllAboutBirds/BirdGuide/Eurasian_Tree_Sparrow.html
Botteris Sparrow http://www.birds.cornell.edu/AllAboutBirds/BirdGuide/Botteris_Sparrow.html
******************************************************************
You may contact me at birdfotos@aol.com
This web site contains photos of the following.Birds,arizona birds,wild birds of arizona,Hummingbirds, Arizona desert life,flowers plants,trees,cactus,blooms,cicada,locust,frogs,tortoise,snakes,moths, butterflies,wolf,lizard,peccary,javelina,coyote,dinosaur insects,fox,grasshopper,hawks,larks,sparrow, warblers,jays,tanager,wrens,robins,grosbeak,hummingbirds,woodpeckers,verdins,phainopepla,blackbird, bunting,ducks,finch,doves,flycatchers,gnatcatchers,kinglet,oriole,owl,pyrrhuloxia,quail,rail,snipe roadrunner,thrasher,thrush,titmouse,towhee,trogon,vireo,vultures and much more,museum,water,Arizona desert,deserts,mountains,