BIRD PHOTOS
BIRD PHOTOSBishop Red/Orange Bishop
birdfotos.com
More info on this bird
Click link below
http://www.honoluluzoo.org/red_or_orange_bishop_weaver.htm
Photos are of a Male bird.
Photos taken in Phoenix, Arizona 08/11/01.
Seems to be a small community of these birds forming in North Central Phoenix.
I will have to get out my African bird book to learn more on this bird.
******************************
08/17/01
Well, went and bought the book. "Birds of the World" by Colin Harrison and Alan Greensmith.
Page 372.
It is a "RED BISHOP"???. It still looks Orange to me.
Family-Ploceidae - Species Euplectes orix - 4 1/2 inches head to tail.

Found in wet areas in tall grasses or reeds.
Nest 3 to 6 feet above the ground or water.
Small oval nest woven from grass and reed leaves and generally attached to a reed stem.
As usual they don't say any thing about the female but show a photo of her.
She looks like a sparrow with a brownish/reddish bill and is shown with a white patch under her bill or on the throat.
************************
"The Sibley Guides to Birds" Shows a photo of the same bird but calls it an "Orange Bishop"
Euplectes franciscanus. It says the female has a pinkish bill, and is similar to a Grasshopper Sparrow in appearance.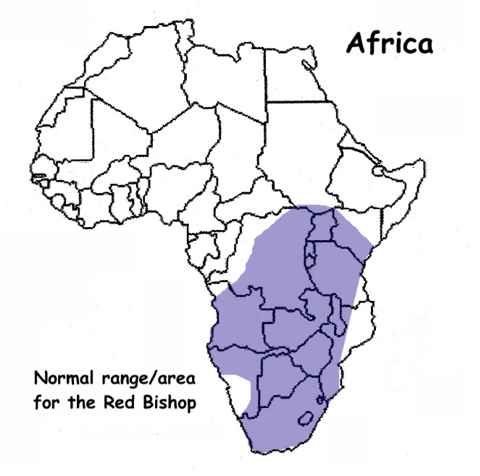 ******************************
I believe the bird upper right in the above photo is an Orange Bishop (Euplectes franciscanus)
and the bird in the lower lerft is a Red Bishop (Euplectes orix) See nest photo next page.
In the near future Mr. Tom Gatz of the U. S. Department of the Interior, U.S. Fish & Wildlife Services,
has promised to let me reprint some information on this bird and show a nest photo he took at
the approximate location I have been photographing the bird.
**********************
*************************
Here are 3 more images of this bird. They are rather large KB's so they will load slow.
You may contact me at birdfotos@aol.com