This web site contains photos of the following.Birds,arizona birds,wild birds of arizona,Hummingbirds, Arizona desert life,flowers plants,trees,cactus,blooms,cicada,locust,frogs,tortoise,snakes,moths, butterflies,wolf,lizard,peccary,javelina,coyote,dinosaur insects,fox,grasshopper,hawks,larks,sparrow,warblers,jays,tanager,wrens,robins,grosbeak,hummingbirds,woodpeckers,verdins,phainopepla,blackbird, bunting,ducks,finch,doves,flycatchers,gnatcatchers,kinglet,oriole,owl,pyrrhuloxia,quail,rail,sniperoadrunner,thrasher,thrush,titmouse,towhee,trogon,vireo,vultures and much more,museum,water,aeizona desert,deserts,mountains,
birdfotos.com
Before we get into the photos and other things, let me tell you, do not go to the Canyon and expect to get a room on the spot, it just won't happen.
You will need to make reservations well in advance, some times as much as a year in advance. But that's only if you want to stay in the park, and or, on the rim. As far as driving into the Grand Canyon park, you can do that on any day of the year, and the fee is $20.00 per car.
You can call for room reservations for all of the rooms at the Canyon; 1-303-297-2757 or 1-928-638-2631.
You might have to try several times because these are very busy numbers.
A recording of general park information can heard at 1-520-638-7888.
There also is a web site you may visit. http://www.grandcanyonlodges.com.
There also are facilities at the bottom of the canyon called the Phantom Ranch. They too need to be reservations well in advance.
Facilities at the North Rim which are cabins are called the Grand Canyon Lodge. At the South Rim there are 9 lodges in or around the canyon rim. Also there are motels & restaurants and other things 7 miles south of the park, and at Flagstaff, Arizona approximately 80 miles South & East of the canyon on Interstate 40.
From Phoenix the canyon is 220 miles north. There is an Airport at or near the canyon, however I don't know if it will accommodate commercial airplanes. Your local travel agency should have all of this information and much more.
Below is a crude map of where the Grand Canyon is in the state of Arizona.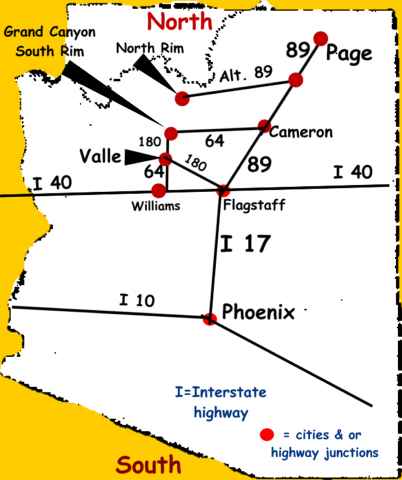 This is a free hand line drawing and not to any scale.
From Phoenix to the canyon it is 220 miles via I-17 to I-40 to Williams & then north on 64 & 180.
From Flagstaff the canyon is 89 miles via I-40 to Williams & then north on 64 & 180.
From Cameron the canyon is 52 miles.
From Flagstaff to Cameron is approx. 52 miles.
From the South Rim to the North Rim it is approx. a 5 hour drive, I guess that would be approx. 250 miles.
There is one gas station in the Grand Canyon Park. It is at the East Entrance/Exit on highway Alt. 89 approx. 23 miles from the south rim lodging/restaurant area. AND it closes from Oct. 24th. through the middle of May.
In Sept./Oct. 2001 the gas prices were $2.99/$3.00 a gallon.
Coming into the park from the south on highway 180/64, Tusayan approx. 7 miles south of the south rim has food, motels and gas. Gas on the above date also was $2.99 a gallon.
Before we get started on our tour I would recommend the West Rim Shuttle bus tour if your time is limited to just one day. Or, you really are into walking, walk rim along the rim trail out to Hermits rest, it's only 8 miles. If you get tired you can catch the shuttle bus at any of the 8 or so view points along the way.
I won't tell you at which view points I took these photos, mainly because I have forgotten. I just might remember a few & if so will say.
ON WITH THE TOUR.
Boy, it's about time we did that.
Here is a sight you will see at the Grand Canyon.
Smoking is harmful to humans & vegetation.
I can hear them saying to each other;
now just where did all of those nice green trees go.
Remember, L-S-M-F-T the old Luck Strike slogan
Lot's of Smoking Means Fewer Tomorrows 4u
I think there was a song about cigarettes way, way, back when I was younger in the 30's/40's
by the late Phil Harris "1904-1995"
I think it was called "Smoke, Smoke, smoke that cigarette until you smoke your self to death,
tell St. Peter at the Golden Gate, HEY man, your just gonna have ta wait
cause I just gotta have another Cigarette."
You may contact me at birdfoto99@aol.com
Unsigned E-mails and E-mails with certain words in them are automatically sent
to my spam folder or completely deleted & the sender is blocked from ever sending another E-mail to me
before I see them so, don't waste your time sending them.